Christchurch Sight Seeing Tours
Heading to New Zealand? We Offer the Ultimate Sight Seeing Tours to Visitors of Canterbury, Christchurch
Add a stunning, once in a lifetime bird's eye view to your New Zealand trip, with sight seeing tours in Canterbury, from the South Island's best tourism operator, Ballooning Canterbury. We take sight seeing tours to the next level and we take you high into the sky to experience the stunningly beautiful views of scenery that most only dream of.

Start the Adventure Today
Escape to a world of peace and tranquility. Hot Air Ballooning is a magical experience and a flight with Ballooning Canterbury offers panoramic views across the fertile Canterbury Plains to the Southern Alps.
Planning a Trip to Auckland? Why Not Add Christchurch as Well, Where You'll Find the Best Sight Seeing Tours in New Zealand
Only a short 90-minute flight from Auckland, Christchurch boasts the most stunning natural landscapes in the country, making it a tourist's dream! Ballooning Canterbury offers unique and magical sight seeing tours, with sunrise balloon rides over the Southern Alps and the Pacific Ocean. Our family-owned and operated business comes backed by the best pilots in New Zealand along with the latest in flying technology.
Take your holiday photos to new heights, and become the envy of your friends when you return home with the stunning pictures of your balloon sight seeing tour. Full 360-degree views of some of the greatest beauty Mother Nature and New Zealand has to offer will inspire the inner landscape photographer in you to burst free and capture the stunning sunrise moments. We promise a captivating sight seeing tour you'll remember for the rest of your life.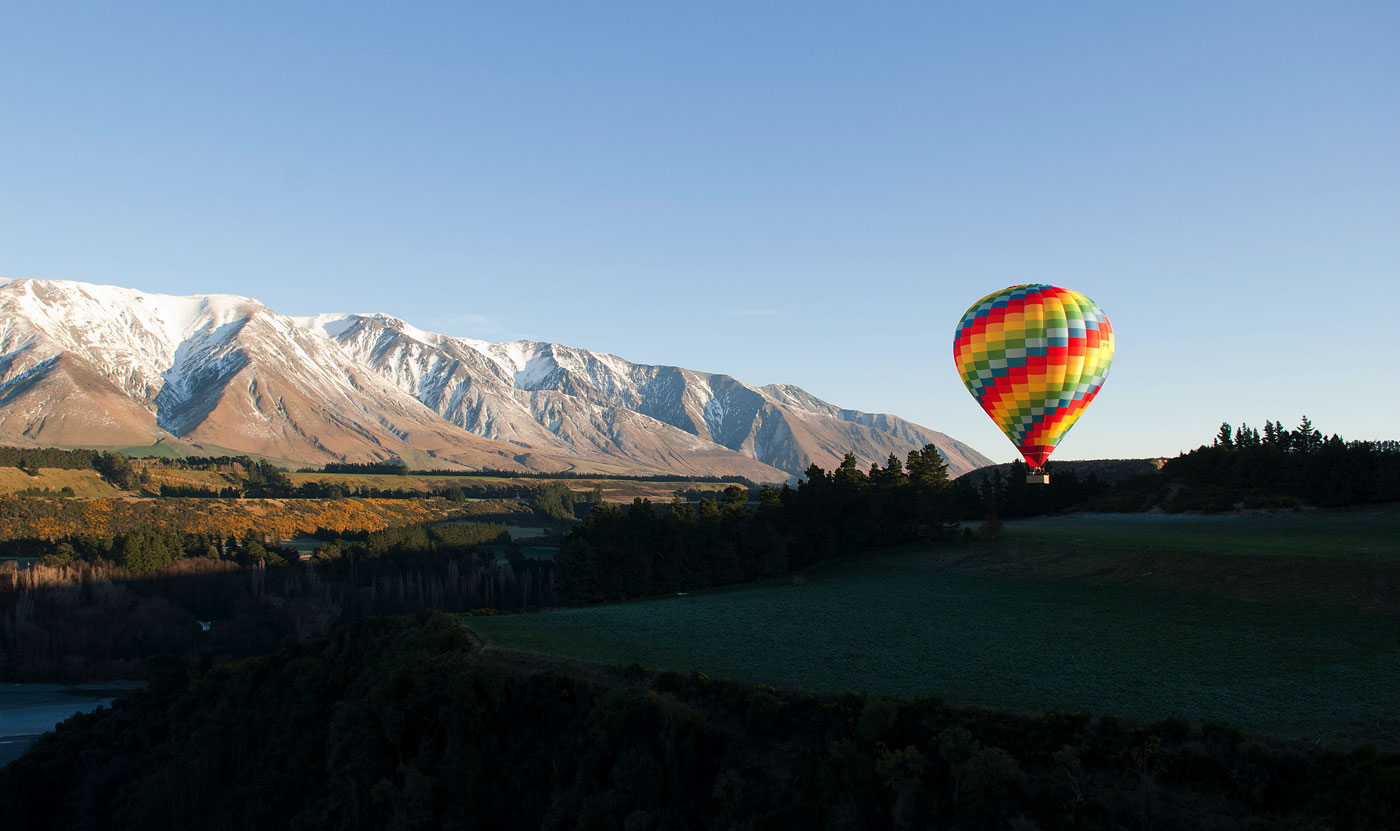 Ballooning Canterbury: Sight Seeing Tours like No Other
Have you ever wondered what it feels like to be a bird? Flying and gliding peacefully above the rest of the world and enjoying the tranquil serenity of soaring above nature's most beautiful and wondrous creations? Well, now you can experience just that, with a sunrise balloon flight that takes you high above the ground and into your own little world.
Most sight seeing tours offer you beautiful views marred by scores and scores of tourists. Your photos come back ruined with other people in the background and selfie sticks that subtract from the moment you tried to capture. Sight seeing tours from Canterbury Ballooning, however, remove all the intrusion from other tourists and put uninterrupted views of some of the world's most beautiful natural scenery in their place. The ultimate tourist desire!
Remove yourself from the hustle and bustle of regular life on the ground, and take a ride of calming peace and tranquillity instead. Breathe in the beauty of a magical sunrise and begin your day refreshed and in awe of the world. An experience of a lifetime you'll simply never forget.
Call us now to see how Ballooning Canterbury can tailor a stunningly beautiful balloon ride experience to your specific needs, and turn your New Zealand holiday into the ultimate trip of a lifetime. Perfect for couples, weddings, or a unique family experience, the is part of your holiday that you'll talk about for years and years to come. Ballooning Canterbury, New Zealand's ultimate scenic adventure.