Book Hot Air Balloon New Zealand
Looking to Book a Hot Air Balloon Adventure in Canterbury? Schedule Your Hot Air Balloon Booking with New Zealand's Best, Ballooning Canterbury
Have you ever experienced the rush that comes with soaring miles above the ground? Have you ever witnessed the incredible beauty and greenery of New Zealand while floating among the clouds? Hot air balloons offer an amazing way to take in the wonders of the world. They also make great gifts and surprises!

Start the Adventure Today
Escape to a world of peace and tranquility. Hot Air Ballooning is a magical experience and a flight with Ballooning Canterbury offers panoramic views across the fertile Canterbury Plains to the Southern Alps.

Canterbury is the perfect area to book a hot air balloon in New Zealand. The area has so much gorgeous countryside to see and behold; it's the perfect way to capture incredible photographs, propose to your significant other, or surprise someone with good news. If you want to see your homeland in a way you never before imagined, you'll want to book a hot air balloon above New Zealand's best sights.
For the highest rated and most incredible experience, book your hot air balloon in Canterbury with the professionals at Ballooning Canterbury.
Who is Ballooning Canterbury and Why Should I Organise My Hot Air Balloon Booking in New Zealand with Them?
Ballooning Canterbury is a family-owned, local balloon ride company based out of Canterbury. We've been serving this area with spectacular and scenic flights for the past four years with our team of dedicated and passionate pilots. Our company is fully authorised by the Civil Aviation Authority of New Zealand to conduct adventure rides, and all our pilots are experienced and licensed.
In fact, we're one of only three hot air balloon companies operating out of New Zealand, but we feel confident that we can offer you the best hot air balloon ride in the country. At Ballooning Canterbury, we're all about providing you with the best, most memorable balloon ride experience.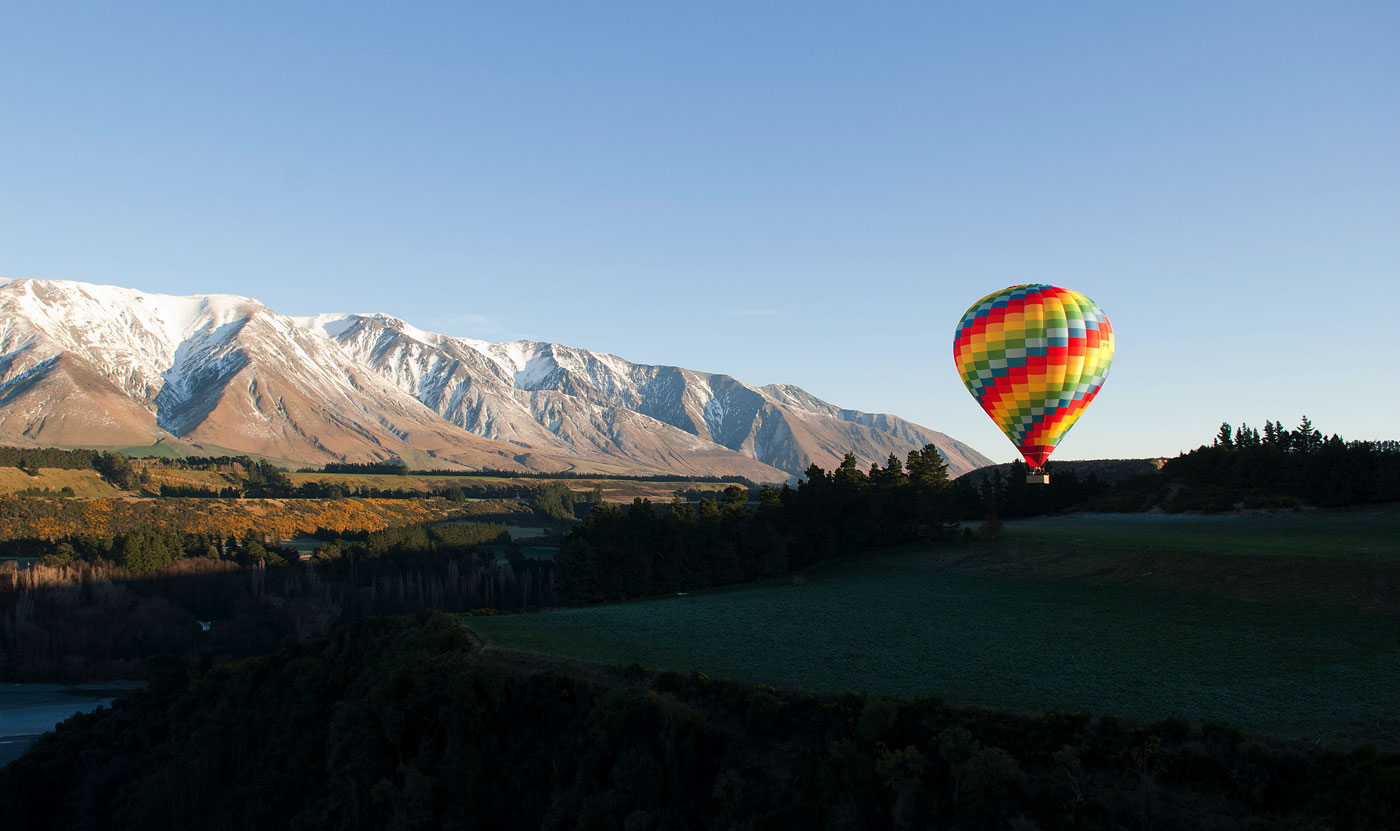 Additional Information about Hot Air Balloon Bookings in Canterbury, New Zealand
All flights last for approximately one hour, and tours can even be customised to go anywhere within the Canterbury region. So, you can set up your hot air balloon booking for Canterbury or any other nearby area you'd love to explore. Be sure to bring your camera as well, because you won't want to miss out on any amazing photo opportunities.
After the balloon ride is over, we also provide complimentary champagne, juice, fruit, and muffins, to celebrate an amazing flight. We'll also provide you with completely free photos of your in-flight experience and send them right to your Facebook account. You'll get to see your experience up close and personal and relive it all over again.
To book your first hot air balloon ride, you can easily sign up on our website. Want to book for a group of people? No problem! We love flying with big groups. Would you prefer this to be an intimate, romantic affair? We love those, too.
If you have any queries or questions about the balloon ride, feel free to give us a call at 0508 42 25 56, otherwise, book your first hot air experience today!