Balloon Tours New Zealand
Book Unforgettable Balloon Tours Across New Zealand in Canterbury, Christchurch, or Methven with Ballooning Canterbury
Are you looking to embark on a unique adventure this summer? Do you want to plan a small group outing that no one will ever forget? While there are plenty of options for fun in New Zealand, from walking tours to excursions, one of the most unusual ways to see the beauty of the countryside in a new light is by taking balloon tours around Canterbury or surrounding New Zealand areas.

Start the Adventure Today
Escape to a world of peace and tranquility. Hot Air Ballooning is a magical experience and a flight with Ballooning Canterbury offers panoramic views across the fertile Canterbury Plains to the Southern Alps.

Balloon tours across New Zealand offer an intriguing and breathtaking view of the land below, from the gorgeous Canterbury Plains to the jaw dropping Southern Alps. If you want to experience some of the most beautiful sights in the world with your friends or family, you'll want to check out the balloon tours near Christchurch offered by Ballooning Canterbury.
Ballooning Canterbury: Offering Stunning Balloon Tours Across Christchurch and Canterbury
Ballooning Canterbury has been providing incredible balloon tours across Canterbury and surrounding areas for more than four years. We're a local, family owned adventure company, focused on making sure you have the best ballooning experience possible. We own three different balloons, making it easy to take your extended family, work group, or party of friends up in the air for a unique experience.
We pride ourselves on being the best adventure ballooning company in the area. We're also completely authorised to fly by the Civil Aviation Authority of New Zealand and staff only the most professional and friendly pilots. If you're looking for a day trip that's anything but ordinary, then you'll want to book one of our balloon tours over Canterbury.
What to Expect When Booking Your Balloon Adventure with Our Team
Our experienced staff and team members want to make sure your ballooning experience is everything you had hoped it would be. We offer customised experiences, making this trip an ideal teambuilding exercise for your employees, a fun get-together for small family reunions or a fantastic place to host a conference or meeting. Let us know what you're looking for, and we'll make it happen.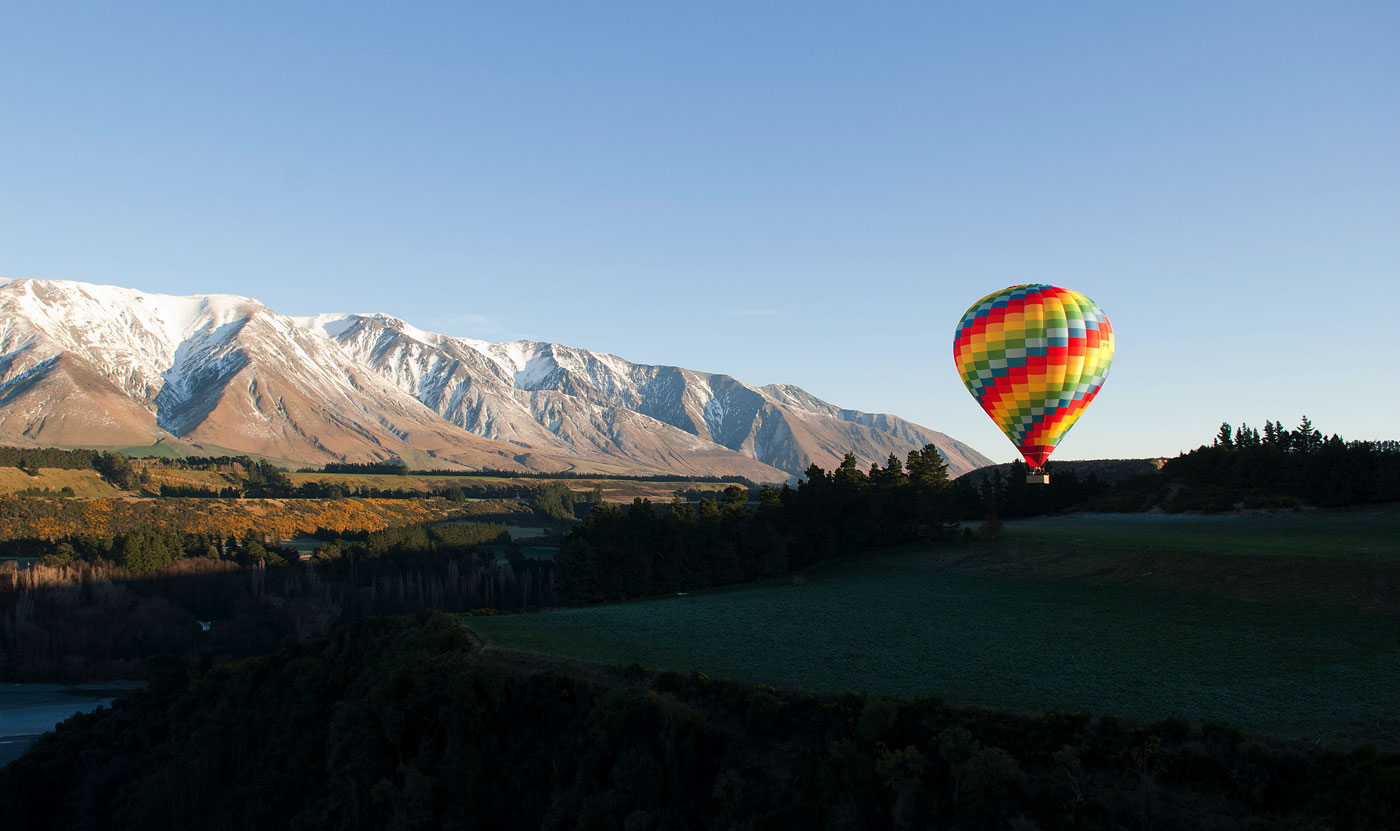 Once you've booked your tour, the real fun can begin. The entire experience takes anywhere from four to five hours, and you'll be up in the air for one hour of that time. On the day of your trip, be sure to wear warm clothing and sensible footwear. You can also help our pilots out with the pre-flight inflation measures for an even more thrilling experience. Guests are encouraged to bring cameras to capture the beautiful scenery from up above. After landing, we'll have complimentary fruit, muffins, champagne, and juice available. We'll also provide in-flight images of your trip for free, via Facebook.
Ready to take the plunge and experience New Zealand like you've never seen it before? Give us a call today and book your first, personalised balloon tour with us this summer at 0508 42 25 56.