Balloon Rides New Zealand
Why You Should Embark on a Balloon Ride in New Zealand
Life is a gift, but it can certainly be hard work at times. Most of us are required to do the same routine on a daily basis just to survive. The day starts with waking up to the buzzing of your alarm followed by preparing yourself for work and the kids for school. While you're still half asleep, you travel to work for nine or so hours that are unlikely to be too much fun. Even after finishing work and returning home, you probably can't simply relax because you need to prepare dinner and take care of other tasks. Then, you'll finally be able to enjoy an hour or two of TV before heading off to bed to do the same thing tomorrow.
Start the Adventure Today
Escape to a world of peace and tranquility. Hot Air Ballooning is a magical experience and a flight with Ballooning Canterbury offers panoramic views across the fertile Canterbury Plains to the Southern Alps.
Sometimes, you need to unwind to ensure your stress levels don't go through the roof. You have limited time off, so it's important to make the most of every free second you have. The best way to avoid boredom and keep life interesting is to try something new from time to time. We think we have the perfect way to put some renewed energy and motivation into your life.
At Ballooning Canterbury, our balloon rides in New Zealand provide you with an opportunity to enjoy a little peace and tranquillity. There's nothing quite like taking to the skies in a hot air balloon, and a flight promises to be an adventure you'll never forget. Additionally, you can enjoy a balloon ride in New Zealand with the whole family. In fact, you can bring your friends along too because our baskets hold up to 16 people. Below, we'll give you some insight regarding what to expect from such a fantastic adventure.
Unforgettable New Zealand Balloon Rides
Don't let life become a rut – our unique adventures will make you smile from ear to ear. It's almost impossible to find a better view than the one seen from the sky, and you'll be able to capture photos that you'll peruse fondly again and again. Here's what you can expect from the day.
Get involved – We want to show you how this centuries-old form of flying really works, which is why we ask for your help when filling the envelope with hot air. You'll be integral as the pilot's right-hand man.
Take to the skies – For a full hour, you and your loved ones will gaze at beautiful landscapes, the majestic Southern Alps and the sunrise over the Pacific.
Conclude the day in style – As the icing on the cake; you'll be treated to a glass of fine champagne after the flight is over. Additionally, we'll give you free photographs via Facebook.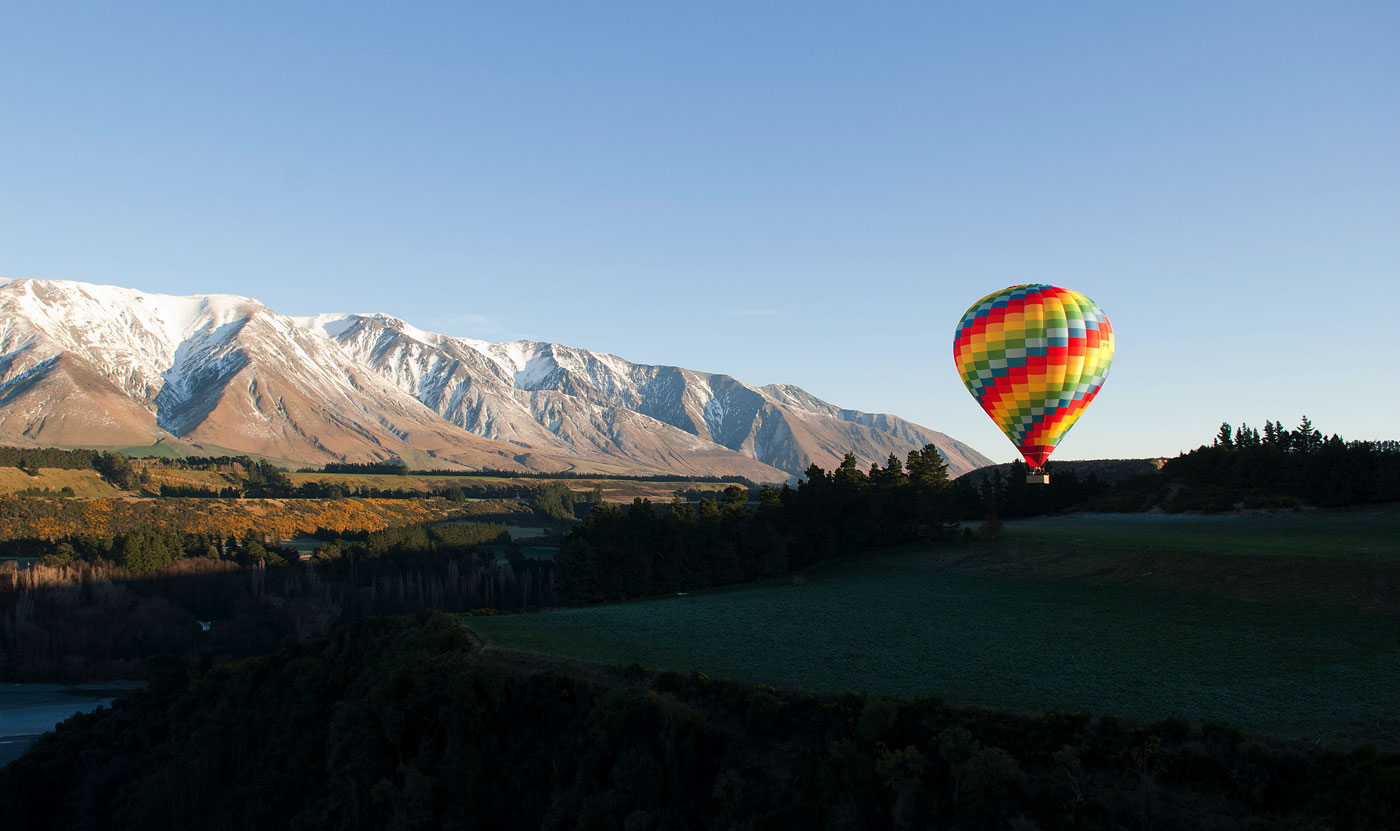 A Magical Adventure
New Zealand has some of the most breath-taking natural landscapes the world has to offer, and there's no better way to see them than by embarking on a balloon ride in New Zealand. We guarantee the whole family will love such a life-changing adventure. Don't hesitate to contact us today with any questions you have or to book an appointment.