Adventure Tours Canterbury
Unforgettable Adventure Balloon Tours in New Zealand
There are a million reasons to visit New Zealand, from sightseeing to scuba diving. It's a country widely known to have an incredible quality of life, with beautiful beaches, magnificent cities and awe-inspiring views. If you're planning a trip to Zealand, you might be wondering what you should do as to ensure you create a holiday with a difference. We suggest you plan well in advance if you want to make the most of your trip, but there's one activity we highly recommend that will make your holiday truly unforgettable.
If you enjoy sightseeing and adventure, there's a way you can combine both delights into one day out. Hot air balloons, first invented by the French in the 18th century, are a splendid way to capture images of New Zealand in all its glory, perfect for the whole family. To ensure your adventure lives up to your expectations, you need to choose the best ballooning tour company for your flight.

Start the Adventure Today
Escape to a world of peace and tranquility. Hot Air Ballooning is a magical experience and a flight with Ballooning Canterbury offers panoramic views across the fertile Canterbury Plains to the Southern Alps.

At Ballooning Canterbury, we've put smiles on thousands of faces who've been blown away by the amazing views offered from the skies. We're here to make your holiday your most enjoyable to date, and our years of experience make us the best company for adventure tours in New Zealand. If you want to see sweeping views of the Southern Alps to the Pacific, there's no better way to capture those images than by taking a ride in a hot air balloon.
Spectacular Adventure Tours in Canterbury
We provide a safe and comfortable environment for you to revel in the beauty of New Zealand's natural landscapes. Our pilots endeavour to make the flight as smooth and magnificent as possible, which is why so many people contact us for adventure tours in Canterbury. We're one of just three balloon operators in the whole of New Zealand, and we promise to provide you with an all-round experience. Here's what you can expect from the day:
Help the pilot – We want to give you an insight into the workings of hot air balloon flying, which is why our pilots ask for your help in filling the balloon and preparing for flight. Watch in amazement as the envelope expands, and the basket lifts upright to whisk you away on an adventure in the sky.
Enjoy an hour of flight – You can expect the whole activity to last around five hours, from pickup to returning to your hotel. During the five hours, you'll see how ballooning works, be amazed by the breath-taking beauty of Canterbury and end the spectacular day with a glass of fine champagne.
Leave with unforgettable memories – Our adventure tours in Christchurch will stick in your mind for the rest of your life.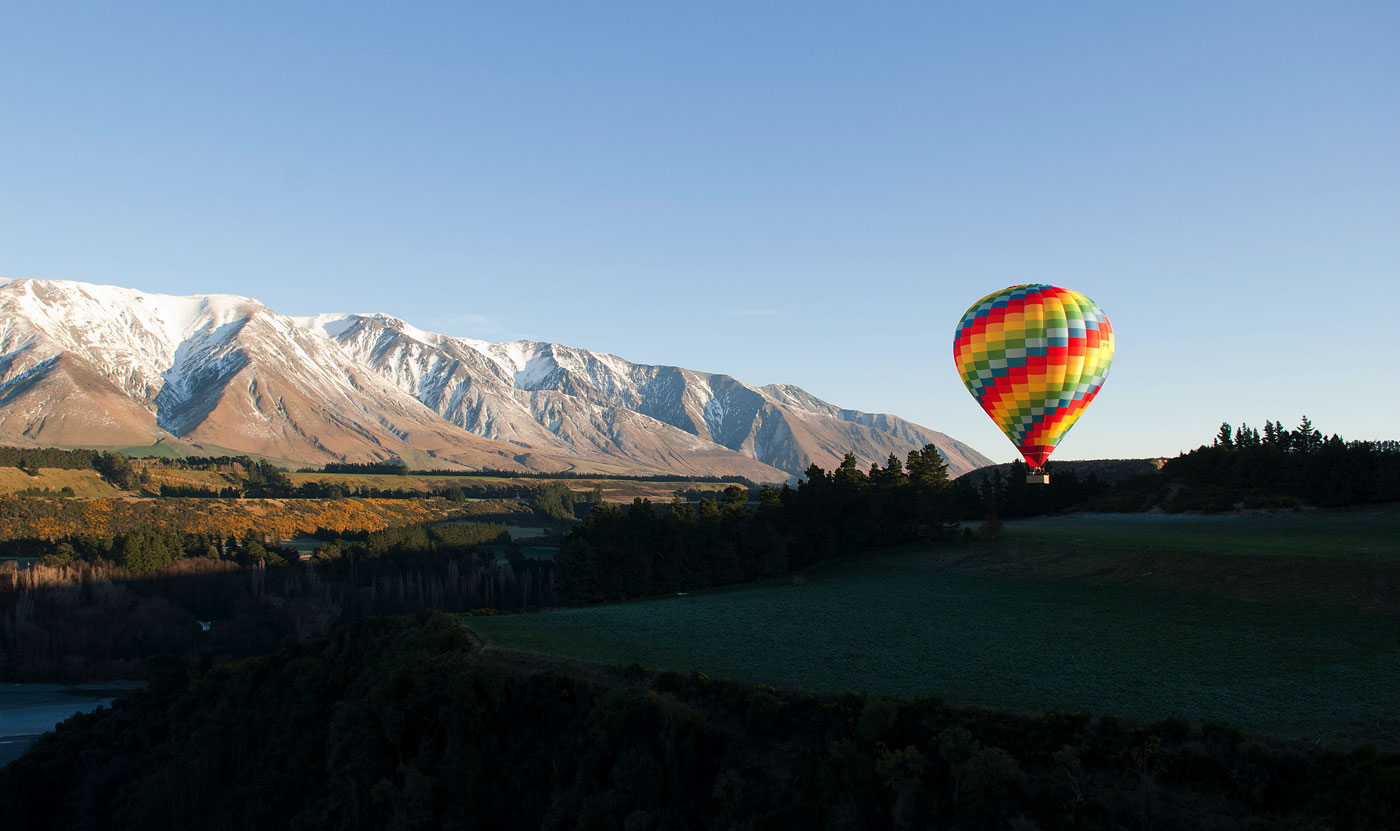 Book Your Appointment
People love our adventure tours in New Zealand, and they are very popular, so it's best to contact us as early as possible to book your trip. We're more than happy to answer questions and make special arrangements when necessary, so give us a call, and we'll be glad to provide assistance.