Sunrise Balloon Rides Auckland
Experience a New Zealand sunrise, with Balloon Rides over Auckland and Christchurch
There's something completely magical about a sunrise. The peace and tranquillity that this dawning of the new day brings, offering all of Mother Nature's beauty when few are even awake to be aware of its existence, is just pure bliss. What better way to experience this beautiful example of nature, than from high in the air, before the rest of the world has even opened their eyes? Join us in the sky and see for yourself!

Start the Adventure Today
Escape to a world of peace and tranquility. Hot Air Ballooning is a magical experience and a flight with Ballooning Canterbury offers panoramic views across the fertile Canterbury Plains to the Southern Alps.
Sunrise Balloon Rides: The Perfect Start to your New Zealand Getaway
Heading to Christchurch from Auckland? Looking for the perfect way to view the dreamy landscape that the South Island has to offer? Ballooning Canterbury, located in Canterbury Plains, boasts the best balloon ride location in New Zealand, thanks to superb weather conditions and the most incredible scenery on the island. We can offer more fly days than our competitors because our location is lucky to have the most flight-friendly conditions in the country.
Your road trip from Auckland to Christchurch just got better, with your destination offering the best sunrise views from above the Pacific Ocean. Board the basket, soar high into the sky and bear witness to the naturally breathtaking beauty of Christchurch and its uniquely stunning scenery. With uninterrupted, 360-degree views of the ever-changing landscape, you'll literally feel on top of the world.
The most romantic experience: Sunrise balloon rides over Christchurch
With views of the Southern Alps and the Pacific Ocean, sunrise balloon rides with Ballooning Canterbury will bring you many of Mother Nature's most stunning views, while peacefully gliding through the air above the beautifully diverse landscape of the South Island. Our balloon rides can be booked for just two people, keeping the experience wonderfully romantic and uniquely personal. Treat your loved one to the most unforgettable experience, one that you will both treasure for a lifetime.
Our safe landing back to land concludes with complimentary champagne and fresh fruit, rounding off your balloon ride with a celebration! Perfect for weddings or weekend getaways, treat your special someone with the ultimate display of your love, as you glide high above the land, in your own romantic world. The sunrise photo opportunities are endless, providing for a multitude of phenomenal backdrops in which you can capture the memories of your experience. Charge up your camera batteries and let the picturesque mountains, inviting sunrise and captivating birds eye views do all the work for you in capturing your balloon ride memories.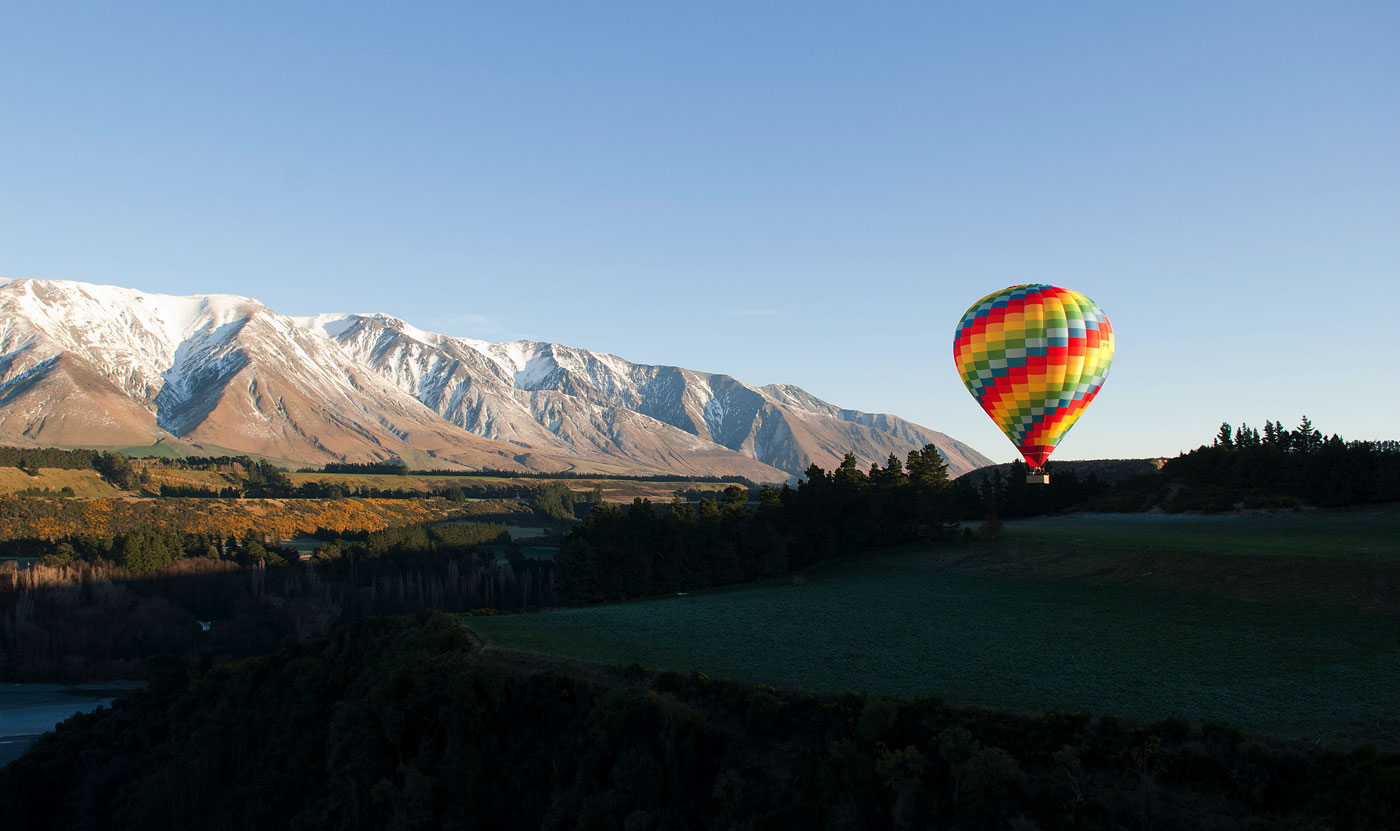 Call Ballooning Canterbury Today to Book your Special Flight
Our family-owned and operated business is here to help you plan your sunrise balloon ride experience of a lifetime! Call our office today on +64 3 318 0860, to see how we can tailor the experience to suit you. Boasting years of experience, holding world records, and with a passion that shows in every flight, you can rest assured knowing your experience will be nothing short of phenomenal. Ballooning Canterbury, New Zealand's ultimate scenic adventure.